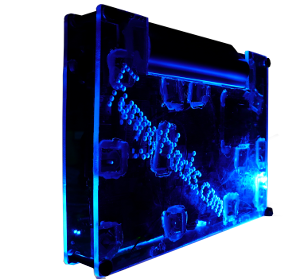 Running a cellphone and camera off AA batteries
Released on: 2009-06-02
The basic idea
In this episose I power a camera and phone using a 3 battery batterypack. This hack is basically the next step after this. In this edition I've also added a meter to help in getting the contacts connected the right way around since this hack is aimed as a temporary, on-the-fly thing rather than a permanent hack.
Risks
Hooking it up backwards. On devices where the battery only fits one way, you can't guarantee that it will have electronic circut protection since it has physical circut protection. Because of this, it is extra important to make sure that you hook up the leads the right way. If you are doing something more permanent then this is less of an ongoing issue.
Wrong voltage, Intermittent/unclean supply. Modern devices are generally very forgiving, but as a general rule when working with these sorts of voltages, I try to aim within +/- 0.5 volts of the specified voltage of the product. Eg in this hack the camera and phone both require 3.7 volts and I gave them 3.6 (3 x 1.2).
This post is referenced by
Woah! You've found a really old link! Here are some things that are probably what you're looking for: ...
...
This remains one of my favourite hacks. It didn't make it into the show simply because I blogged about it before I started the show. It's really simple: find out ...
...
Posts using the same tags