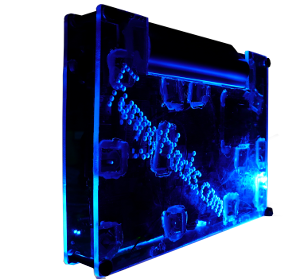 ColouredWeb - Intro
Released on: 2014-03-06
ColouredWeb generates and installs a custom stylesheet that re-colours the internet to make it easier for people who are sensitive to particular colours to use the internet. Here is an example of a relevant condition.
Note that ColouredWeb development is currently inactive since there are currently really good alternatives. See below.
While this is easy to use for someone comfortable on the command line, right now this would be rather tricky for other people. There will be a much easier way available in the future, but the project is not ready for this yet.
The project repo is at https://github.com/ksandom/colouredWeb.
Current state and the future
I'll do a deeper blog post about this in the future, but for now let's say this:
This project scratched an itch, and it did a very good job. I continued using it for years with almost no maintenance (which is kind of amazing considering what it does, and how it works), but browser plugins have since evolved and work really well. In the mean time, it really was due for some attention, both to address things I wanted to improve, and to make it more usable for people for non-technical people. But my spare time for maintaining it was tight, and there were not some really good alternatives. So now I recommend those.
The tech industry is constantly changing, so one day this may prove useful again. If that day comes, I'll blow the dust off and bring it to its former glory. In the mean time, here are some suggestions.
Alternatives
Dark reader
Gorgeous! Uses what looks like a filter to invert colours, but intelligently leaves something partially intact such as images and videos. Includes some controls for fine tuning the look.
| | | | |
| --- | --- | --- | --- |
| Chrome based browsers (Eg Chrome, Chromium, Vivaldi, Opera) | Linux | Yes. | Yes. |
| Firefox | Linux | Yes. | Yes-ish. Very slow. |
| Safari | macOS | No. | NA |
| Windows | Windows | No. | NA |
Dark background and light text
This has a couple of modes. It has a couple of stylesheet based solutions, that I recommend (they are really fast), and an invert, that works in a very similar way to DarkReader. The invert mode has similar performance implications to DarkReader.
| | | | |
| --- | --- | --- | --- |
| Firefox | All? | Yes. | Yes. Really fast! |
| Chrome based | All? | No. | Intriuged! |
This post references
Achel is a programming language that I have been working on for the past 13 years (I said 12 in the video, it has been a long time!) There has ...
...
I'm nearing the end of my sabbatical, and I did stuff! Here's an ultra short summary of what I did.Polishing projects This phase was to get my open source ...
...
This post is referenced by
Today I show you how to debug web pages that don't look right when colouredWeb is applied. The repository is at https:github.comksandomcolouredWeb. ...
...
Today I show you how to fine tune colouredWeb to get the result you need. Bright and Dark themes You can switch between bright and dark themes with `--cwBright` and ...
...
Posts using the same tags