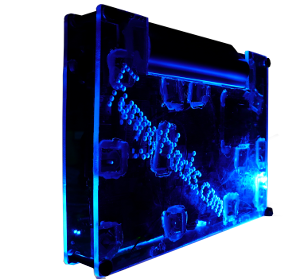 My Sabbatical
Released on: 2014-05-27
I'm nearing the end of my sabbatical, and I did stuff! Here's an ultra short summary of what I did.

Polishing projects
This phase was to get my open source projects that were either publicly available, or almost ready to be publicly available into a fairly polished state so they could be used in a consistent way.
These projects are
The polishing generally involved
De-stupifying it - Removing inconsistencies, and improving things that could be done better.
Cleaning/updating written documentation.
Creating instructional videos on specific tasks.
Robotics
This phase is really where my passion for this time lay. Achel has really been getting somewhere over the last while, so it was time to write something more substantial in it. Enter the auto-pilot!
The auto-pilot is my first* project in Achel that takes advantage of the stuff aimed at robotics. It's been really cool to see this taking shape. There's a lot more that I want to do on this over the coming years.
* I say first... Although now I think about it a bit more, I also have an unreleased tool for mass, which uses a lot of this code and has been waiting for nearly a couple of years for me to have some more time on it. This will be available in the near.…ish future.
Other stuff
I've released lots of other material as well

From the archive - Tim and I put in many hours recording season 2. Then life happened and a lot of it stayed in the archive for a long time. So it's been nice to dig it back out again.
Understanding stuff - This has been a pursuit of mine for some time now. To find the answers to things that people treat like voodoo such as why it matters which order you connect the jumper leads when jumpstarting a car.
Answering peoples' questions about old hacks.
New hacks - There's still many more of these to be released.
What's next?
Understandably, my pace will slow down again when I go back to work. But there will still be a slow output of content as I have stuff to show.
The robotics work I've done is really just laying and testing the foundations of projects I want to do over the next several years. It's been really exciting to see all this come together and see the dreams of my childhood slowly coming alive.
This post is referenced by
Posts using the same tags