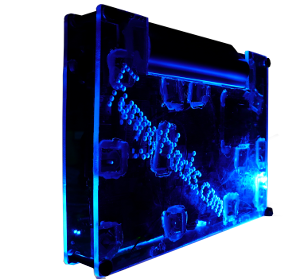 Windows 95 insanity
Released on: 2013-02-17
A few days ago I started playing with the idea of trying to post to facebook from a fresh windows 95 VM using only software that I could aquire from the internet through Windows 95. Today Juan and I did a live session through to success. More details to below the video.

Initial setup
Windows 95C
64MB RAM (I later upgraded this to 256MB)
Internet explorer 4.40.308
Final working setup
Windows 95C
256MB RAM
Opera 8.54
Key moments
0:00:00 - Introduction
0:00:29 - Two guys making modem noises
0:09:30 - Try facebook on Internet Explorer 4.0
0:09:42 - Internet Explorer 4.0 does not know HTTPS
0:44:47 - Found ftp://ftp.lanet.lv/ftp/windows/www/netscape3.0/
0:46:10 - Found Internet Explorer 2.0!!!!!
0:48:26 - Starting to look like a real Windows 95 desktop
0:48:50 - Began installing Netscape Navigator 3.0
0:50:37 - Run Netscape Navigator 3.0
0:52:28 - Netscape Navigator 3.0 does not support any of the SSL Cyphers that Facebook does.
0:55:34 - Turn off javascript
0:55:50 - Muuuuch better (no JS errors)
0:57:04 - Try m.facebook.com
0:59:41 - Found http://arc.opera.com/pub/opera/win/
1:00:53 - Download Opera 8.54 
1:02:00 - Install Opera 8.54
1:05:30 - We have a login screen
1:17:00 - Re-Introduction / Recap
1:17:20 - Upgraded VM to 256MB RAM
1:22:04 - Post screen appears for the first time
TANGENT
1:32:08 - Beginning post
1:36:15 - Made the post  - DING DING DING
1:42:37 - Confirmed post was successful
Follow up
There's been a lot of interest in this. So we are very likely to do more.

Next time we're doing one, I'll post to twitter.
[Update: I told several people we were using Windows 95A. This is incorrect, we were actually using Windows 95C.]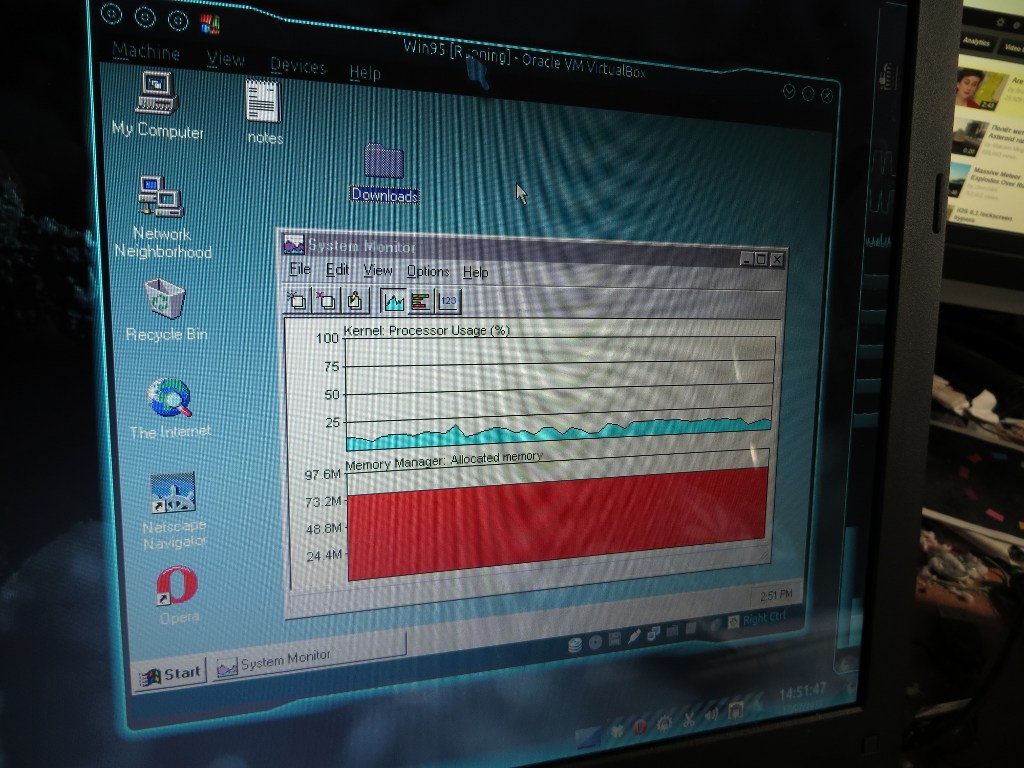 Above: Imported image from the old system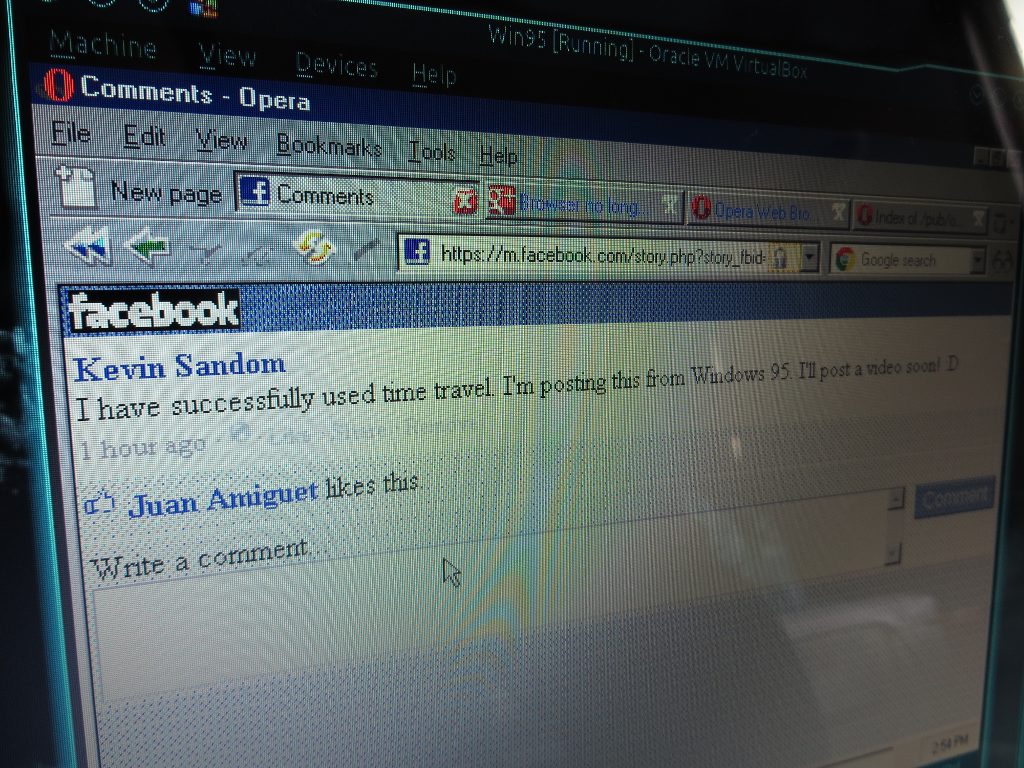 Above: Imported image from the old system
Posts using the same tags